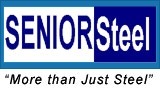 SENIOR STEEL is an independent organisation dedicated to the supplying steel & associated building products to the industry.
Our current complete price list contains:
Steel
Mesh, Pipe, Plate, RHS, Sheet, Round, Channel, Angle, Flat, Beams, Tube, Square
Roofing
Purlins, Top Hat, Roofing Battens, Gutters, flashings, Cappings, Corrugated Iron, Sureclad, Self Drilling Fastners (tek screws)
Hardware Items
Door Track, Fencing Products, Bolts and Nuts, Brackets and Cleats, Cutting Blades
Please fill out the following Price List or Trade/Regular Customer Price List request form to have our pricelists sent to you. (Or Click Here to view a basic Price List).  A representative from our office may contact you.