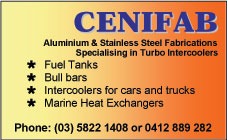 Col Senior Heat Exchangers
"INSURANCE FOR YOUR SKI RACE ENGINE"
Eliminate your engine temperature problems. Install a pressurised sealed water system.
Stainless steel/copper construction.
Eliminates engine temperature fluctuation.
Uniform temperature throughout the engine.
No need for marine water pumps.
Custom made to your requirements.
Increases reliability of your engine. Detect water pick up problems before causing engine damage. • For further inquiries phone Col Senior 5821 1408 or email.